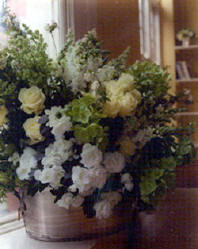 The Kenneth Turner Flower School is your opportunity to learn how to create stunning floral displays and decorations. You will be taught the not so secret "tricks" and techniques of a floral decorators trade and the essential skills needed to produce your own creations. It is an ideal chance to discover your own style, and your decorations will never be as described as "nice" again.
The London school is in the English country house style and is located in the heart of London's West End. You will be taught in luxurious surroundings by creative experts in the beautiful art of floral decorating.

Creative imaginations can run riot in the large teaching room area - perfect for creating your own style. There is also an elegant Reception room for you to lunch and relax in and which offers the opportunity to discuss and swap ideas with your fellow floral decorators.
The Flower School will supply you with everything you need for a memorable day creating beautiful displays. You will receive all the materials and equipment you need for your floral decorations, together with a Kenneth Turner apron, bag, pencil, note pad and floral snips. You may however wish to bring a camera with you to record your achievements.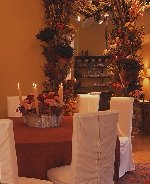 Our range of courses generally run from one to five days, with each day specialising in fresh, dried or seasonal arrangements. Courses usually start with coffee at 9.30am and finish at approximately 4.30pm. Masterclasses and "special days" are also held from time to time. See the course calendar for more information.
Longer courses, private lessons, group bookings and overseas lecture tours can be organised to suit individual requirements.